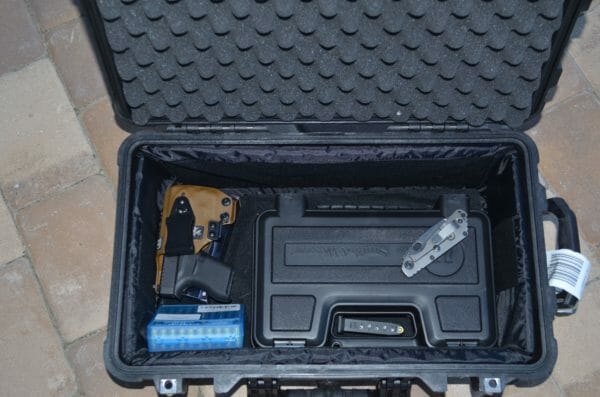 U.S.A. –-(Ammoland.com)- Recently I was talking with a few fellow gun owners about air travel and the transporting of firearms. I was surprised at how some of them thought that flying with firearms was more of a hassle than it is in reality. These were not casual shooters, either. Industry professionals would be a better term.
For decades flying with guns has been part of my way of life when traveling from point A to point B, whether to attend a trade show, go on a hunting trip, take a class or simply visit family and friends and want the security of my carry guns.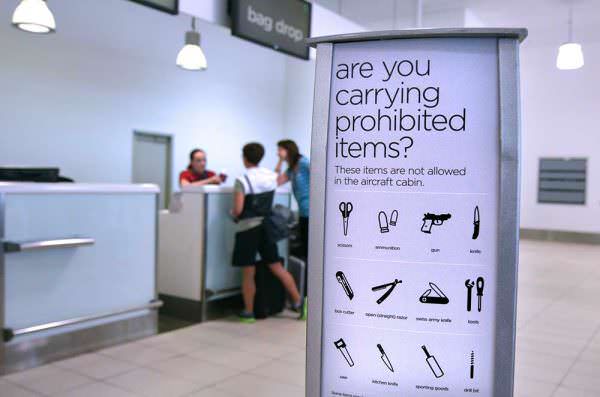 Air travel with firearms can be as difficult or complex as you want to make it or it can be very simple.
The most important thing to ensure is that your firearms and ammunition are legal in both your point of origin and destination.
The Rules
According to the TSA (Transportation Security Administration):
"When traveling, comply with the laws concerning possession of firearms as they vary by local, state and international governments. If you are traveling internationally with a firearm in checked baggage, please check the U.S. Customs and Border Protection website for information and requirements prior to travel. Declare each firearm each time you present it for transport as checked baggage. Ask your airline about limitations or fees that may apply. Firearms must be unloaded and locked in a hard-sided container and transported as checked baggage only. Only the passenger should retain the key or combination to the lock. Firearm parts, including magazines, clips, bolts and firing pins, are prohibited in carry-on baggage, but may be transported in checked baggage. Replica firearms, including firearm replicas that are toys, may be transported in checked baggage only. Rifle scopes are permitted in carry-on and checked baggage. Declare the firearm and/or ammunition to the airline when checking your bag at the ticket counter. Contact the TSA Contact Center with questions you have regarding TSA firearm regulations and for clarification on what you may or may not transport in your carry-on or checked baggage."

"Unloaded firearms may be transported in a locked hard-sided container as checked baggage only. The container must completely secure the firearm from being accessed. Locked cases that can be easily opened are not permitted. Be aware that the container the firearm was in when purchased may not adequately secure the firearm when it is transported in checked baggage. Ammunition is prohibited in carry-on baggage, but may be transported in checked baggage. Small arms ammunition, including ammunition not exceeding .75 caliber and shotgun shells of any gauge, may be carried in the same hard-sided case as the firearm. Firearm magazines and ammunition clips, whether loaded or empty, must be securely boxed or included within a hard-sided case containing an unloaded firearm. Read the requirements governing the transport of ammunition in checked baggage as defined by 49 CFR 175.10 (a)(8)."
The Container
You have basically two routes you can go here as far as a container.
Use a dedicated hard-sided container for firearms
If flying with a pistol or two, place your locked pistol case inside another piece of checked luggage.
When I fly, I always go with the first option. You may think that this only makes sense when traveling with a long gun and using a $300 wheeled and lockable rifle case and that certainly is an option. However, I found a case that fits not only my needs for flying with a few handguns but other valuables I do not trust to the good graces of an airport's baggage crew.
It is the Pelican 1510 "Carry-On Case", but do not let the name fool you, Pelican calls it that as it meets the maximum dimensions for carry-on baggage with most commercial airlines: 22.00″ x 13.81″ x 9.00″ (55.9 x 35.1 x 22.9 cm). Although, to be honest, it is a lot smaller than what I see most air travelers fly with as carry-on items.
Seriously, when did one bag and one personal item become two steamer trunks made in the 1920s with wheels and collapsible handles?
The interior gives you 19.75″ x 11.00″ x 7.60″ (50.2 x 27.9 x 19.3 cm) of secure storage space and the case can be ordered in a variety of colors (black, orange, yellow, red, green and tan). Additionally, you can configure the interior to how you want it.
Most shooters opt for the foam configuration and pluck out the shape of their firearm(s). I find this wasteful and recommend either the Trek Pak Divider system or the padded dividers. This allows me to use a second internal pistol case with my firearms and gives me plenty of room for other items I like to keep under lock and key such as cameras, night vision, thermal imagers, rifle parts, suppressors, ammunition and custom knives.
That is the second benefit of flying with a firearm; since it is transported in a locked case you can place other valuables with it for their protection.
Pelican's 1510 case is small enough that it is easy to get around with due to its strong polyurethane wheels with stainless steel bearings and retractable extension handle, yet big enough that it cannot be secreted out of a secure area within an airport by a baggage thief. The padlock inserts are reinforced with stainless steel hardware and if you use quality padlocks, your guns and gear will usually arrive safe and sound.
If you think this is too much luggage to haul around with your other bags and are just transporting a handgun or two for concealed carry, you can place a small locked pistol case inside another piece of luggage. The pistol case must be locked, but the outer case cannot be. In my opinion this still leaves your pistol case open to theft as someone can reach in, remove the locked case and get it to a location where it can be pilfered or (if the case is small enough) stolen outright.
Firearms
"United States Code, Title 18, Part 1, Chapter 44, firearm definitions includes: any weapon (including a starter gun) which will, or is designed to, or may readily be converted to expel a projectile by the action of an explosive; the frame or receiver of any such weapon; any firearm muffler or firearm silencer; and any destructive device. As defined by 49 CFR 1540.5 a loaded firearm has a live round of ammunition, or any component thereof, in the chamber or cylinder or in a magazine inserted in the firearm."
On one occasion while flying through Phoenix International Airport with firearms, a fellow passenger took note of us putting padlocks on my Pelican case and asked me how I was able to do that. He routinely transported high end electronics and did not trust the security of "TSA Approved Locks".
I told him that I was transporting firearms and suggested he could do the same, by placing a firearm in his secured case with proper locks. He seemed hesitant but then relieved when I told him that TSA considers a pellet gun or starter pistol a fully-fledged firearm and a $20 non-gun would protect his case's other more valuable contents.
Ammunition
When flying with handguns for CCW, I take along about 150 rounds in the original factory boxes. If I am attending a class that requires more (say 500 to 2000 rounds) I either buy it locally or have it shipped to the final destination.
As noted previous, ammunition may be stored in magazines, plastic reloading cases or the original cardboard containers.
If you are flying with a substantial amount, this is where the rules of the airlines come into play as many have specific weight allowances for ammunition. The limit seems to be 11 pounds on average.
Documentation
Oftentimes, ticket counter agents or even TSA Agents may not completely know the rules. I advise printing out copies of the regulations governing firearms from the TSA Website as well as the airline's requirements for the same in advance of your trip to present it when difficulties in communication occur.
When you declare your firearm, you will be given a declaration form to place in the case containing the firearm after you complete it.  You may be asked to wait nearby for up to 30 minutes as the bag is checked in case TSA feels the need to inspect it. If TSA does not arrive, proceed to passenger screening and on to the gate.
When you reach your destination and retrieve your baggage it may come out on the carousel. Some airports will take secured baggage to an office near the baggage claim or a roped off area in the vicinity. Claim your bags and be on your way, it is that easy.
---
About Mike Searson
Mike Searson's career as a shooter began as a Marine Rifleman at age 17. He has worked in the firearms industry his entire adult life as a Gunsmith, Ballistician, Consultant, Salesman, Author and was first certified to teach firearms safety in 1989.
Mike has written over 2000 articles for several magazines, websites and newsletters including Blade, RECOIL, OFF-GRID, Tactical Officer, SWAT, Tactical World, Gun Digest, Examiner.com and the US Concealed Carry Association as well as AmmoLand Shooting Sports News.
Home page: www.mikesearson.com
FB: www.facebook.com/mike.searson
TWITTER: www.twitter.com/mikesearson
The post Transporting Firearms and Ammunition, a Frequent Flyer's Perspective appeared first on AmmoLand.com.
via AmmoLand.com
Transporting Firearms and Ammunition, a Frequent Flyer's Perspective